Kanchipuram : City of 1000 temples
Kanchipuram has always had a special place in my heart. Reason - It's here I set my foot on earth. Being my birth place is certainly of no significance to anyone.
Two things that make it a tourist hub are;
1) Massive and spectacular temples that capture the essence of architecture of Dravidian dynasties. Kanchipuram, the capital of Pallava kingdom, had at its zenith around 1000 tepmples, of which only 200 remain now. And I might have seen just around 20 of them....famous ones you could say.
here's Ekambaranadhar temple....the biggest of all in Kanchipuram.
2) Silk sarees.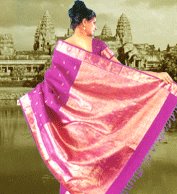 Inspite of being my birthplace I didn't get much chance to learn about the place and its history. I am planning to capture onto this blog what I learn "slowly" about Kanchipuram.